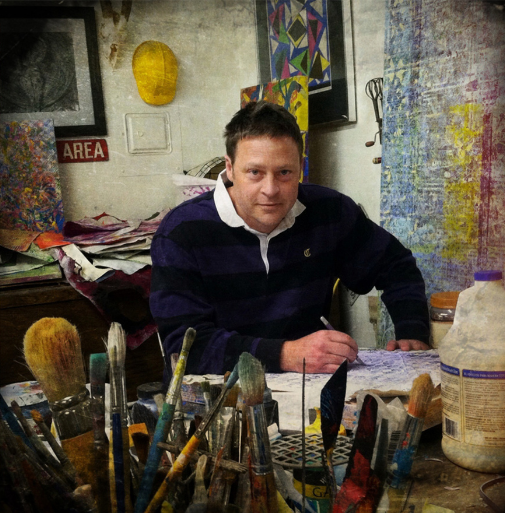 Charles Baughman is a nationally known, contemporary, Abstract Expressionist painter, as well as a long-time art educator. He received his Bachelor's degree in Studio Arts and Art History from Kearney State College in Kearney, Nebraska and his Master of Fine Arts in Painting/Sculpture from Wichita State University.
Baughman has an extensive background as a fine artist, exhibiting work around the country as well as internationally, and has been involved in art education for over thirty years. His artwork has transformed from Pop Art to Abstract Expressionism, the imagery slowly over the course of his career evolving back to nature. Picturesque landscapes, birds, flowers, trees, and clouds are all brought to life with contrasting and harmonious colors and bold compositions.
Baughman has been an instructor at the Wichita Art Museum, Wichita State University, Cowley County Community College, Butler County Community College, Wichita Center for the Arts, and Friends University. He has developed and taught classes ranging from Art Appreciation and Figurative Sculpture to advanced drawing courses and painting. Since 2004, Baughman has owned and operated the Monart School of Art and The Art Park with his wife Kate Pepper.
Baughman's hobbies include cooking, gardening and spending time with his family.
I love to explore nature; walk in the woods, dig in the dirt, splash in the water. I have done this my whole life. I still do this today with my children and students. It is my intention to share this joy of nature with others.
These landscape paintings are my most recent work. My whole process, when it comes to creating artwork, has changed. I put away all my brushes and started experimenting with the paint. The results are drips, drops, splatters and smears that come together as landscapes. I have spent years painting in a traditional, realistic fashion, and because of my knowledge and experience, I understand the layering process that holds a painting together. I have a definite idea in mind when I start a painting. But, I also want that element of surprise. I believe the splatters and drips are like the primordial ooze that creates life. The chaos and destruction allow for new growth. I hope to capture the internal radiance and energy of the natural world. When I paint I am conscious and aware of nature and myself, I allow them to become in tune with each other. That awareness is what makes these works exceptional.
Facebook @CharlesBaughmanArt | Instagram @ChipCharles | Tumblr @CharlesBaughman
Images Copyright Charles Baughman