A graphic designer based in Wichita, Kansas, Alaina is graduating from Friends University in May 2022 with a Bachelor of Arts with an emphasis in Graphic Design. Having over a year of industry experience, Alaina has worked as a student graphic designer for the Friends University Advancement Office. She is passionate about finding creative solutions to problems and producing impactful design.
Alaina's work is inspired by her love of nature. The beauty and goodness of God is evident in creation. This includes the plants and animals given as a gift for our nourishment and enjoyment. "Delight magazine" was created out of a desire to learn about nutritious food and to cultivate a healthy lifestyle. The primary goal of the magazine is to empower busy, overwhelmed parents, and young adults to make small steps toward healthy living. This is achieved through simple, nutritious recipes and inspiring articles.
Follow Alaina:
Instagram @alainagc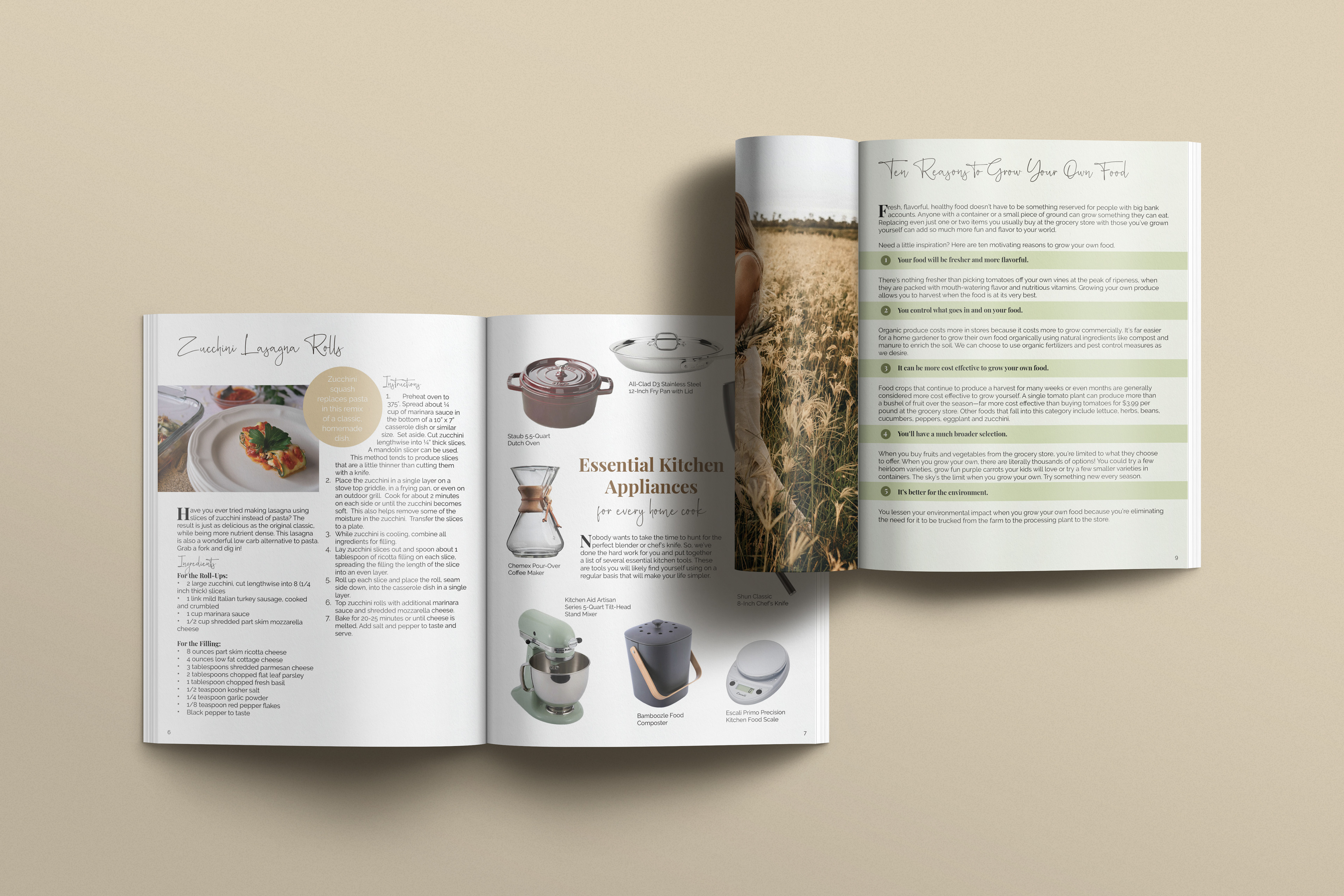 Madalyn Liebst is a Graphic Design major, minoring in Marketing. She is currently working at Textron Aviation as a 2D/3D Graphic Artist creating 3D interior models and exterior stripe schemes of Textron's air craft fleet. After graduation she will be applying to the University of Florida for her Master's of Science in Architectural studies with an emphasis in Sustainable Design. She hopes to make the world a more eco-friendly and aesthetically pleasing place.
I felt a calling to display some of the most authentic parts of my life. As I get older, I realize that the moments I cherish with my family are fleeting. With "Sycamore Street", I wanted to capture the essence of my grandparents and how they bring our family together using their love of cooking. The medium I used was silver gelatin film photography, developed in the dark room. This medium helps me get to the root of authenticity while emphasizing my attention to detail and craftsmanship.
"Sycamore Street" also holds the connection between my mentor Dale Strattman and I. We met four years
ago at his own silver gelatin show. I felt a connection to his photographs and his attention to forms and details. Afterwards, I asked to learn the silver gelatin process from him and the mentorship began. Since then, we discussed having my own show and it has manifested beautifully.
Follow Madalyn:
Instagram @madalyn_liebst | Website madalynliebst.myortfolio.com
Mira is a graduating senior from Friends University with
a BA in Graphic Design and Spanish. She has a passion for languages and cultures, typography, and digital art. She takes inspiration from these passions to create meaningful illustrations and designs for others and herself.
My inspiration for this series comes from a place of reminiscence and reflection. As I begin to close an incredibly impactful chapter of my life, I want to use my love of digital drawing to create an illustration series reflecting on the past four years in college. I wanted to try and capture the moments that have impacted me as well as the memories that I look back on with fondness and share them for others to see through my perspective.
Robin Mathews is graduating Friends University as a Graphic Design Major. She has always loved art and finds inspiration from the world around her. Though her preferred medium is chalk and charcoal on paper, she has fallen in love with the digital side of things.
The idea for this series started with my fascination with skeletons and how they serve as a reminder, that on the inside, we are all the same. The inspiration for the story of this series of works comes from nature and the world around us. I feel like we have forgotten about the connection we have with nature based on our society and how it can distract us from the world around us. This disconnect has led us to forget about where we came from. The series of work serves not only as a reminder of our place in nature but as well as a comfort, that there is always life after death.
Nathan Mier is an interdisciplinary artist. He is graduating with a BA in Graphic Design from Friends University. The arts are attributed to being a foundational building block for Nathan's life and continues to influence both, his world view and his art.
Visual arts and music are integral to humanity, it's there with us no matter what. We walk to our own rhythms and melodies, creating a symphony that we call our lives. On top of this, we're walking pieces of art. We're all masterpieces that are ever-changing and showcasing what makes us who we are daily. I wanted to create something that was truly me, raw and human. These pieces of art are small windows into my life, the colors and tones that continue to shape who I am, and who I wish to be. Always be true to yourself. Sing your song. Make your masterpiece. After all, isn't that what life is about?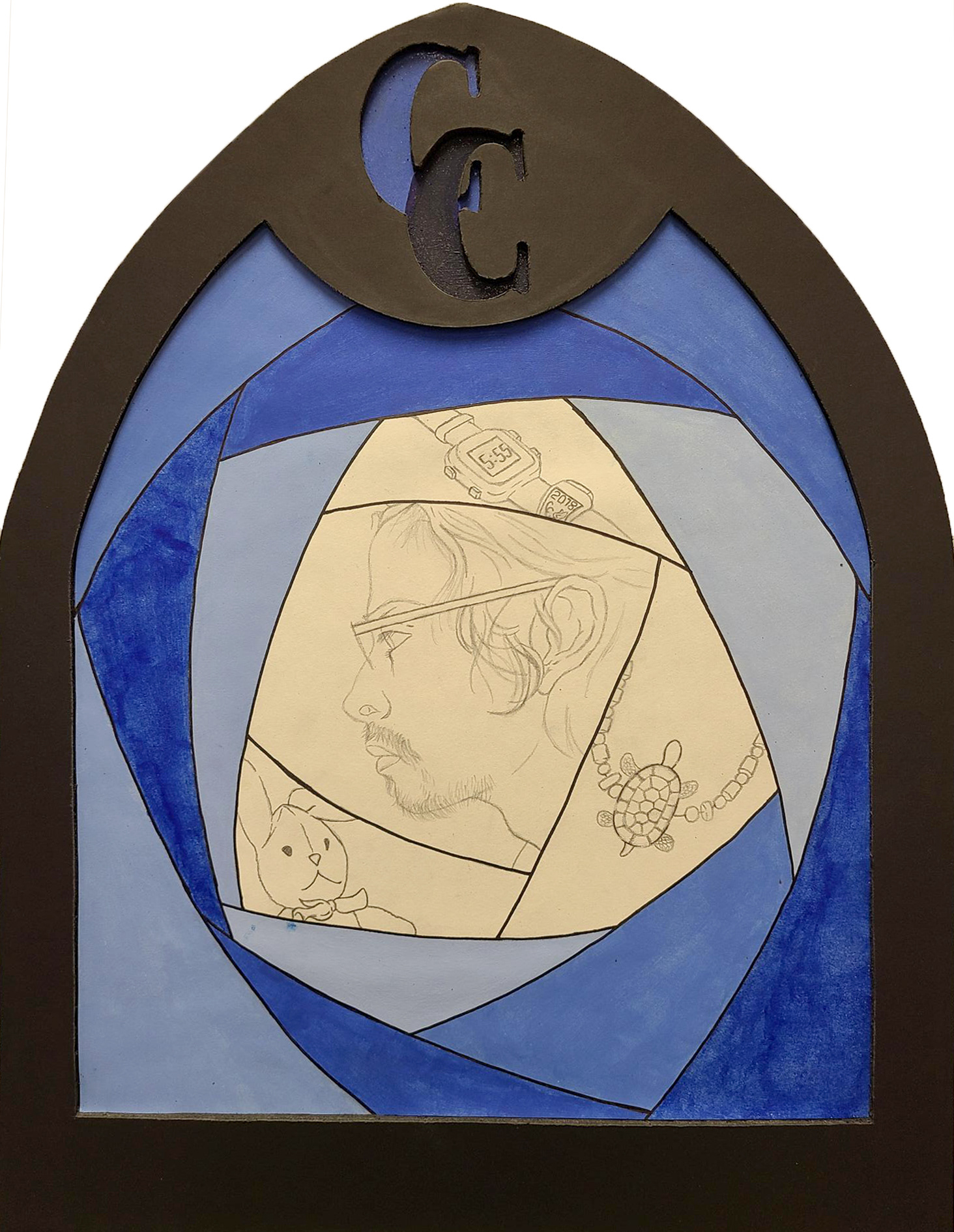 Nicolas J. Rozean is an artist from Clay Center, located in the northern part of Kansas. He began his career as an artist when he was sixteen. In 2018 he enrolled at Friends University and in 2019 he decided that he was going to become a storyboard artist. Nicholas soon began to favor digital illustration as his medium of choice, and is happy with this decision hoping for a future where he can fully invest his time into this career. Nicolas is both excited and scared of what the future will bring. However, with the help of his professors, friends, and family, he knows that whatever it may be, he is ready.
In my animation "The Value" I wanted to visually show three different flowers, in a different environment, with different health. I wanted to show the distinct differences. Each flower experiences surprising endings to show that no matter where we come from our stories have an ending. Even though our stories will end, we end up leaving something behind. Life goes on and that's okay. I hope that this film inspires an appreciation for every little and big moment in life. This is because, with all of the ups and downs that come with life, we only get to enjoy one.
Follow Nicolas:
Instagram @nicolas_rozean9